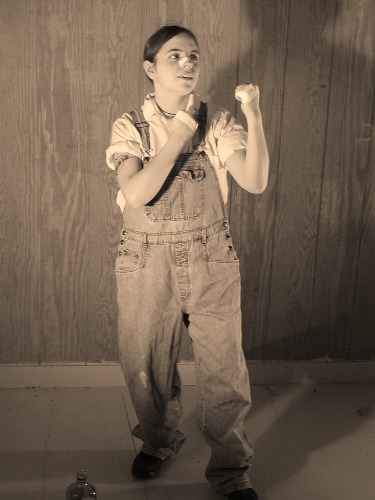 Nat'l Novel Writing Month Short Story Challenge, Day Eight
Today's suggestion, from Eric Appel: "I'll punch you right in the cock-sucker!"
Used to be a punch to the face was a good way to keep a fella in line. Then there was this guy one time, I punched him and he kept crossin' the line. Sassback, loose talk, and general jackassery. Then one of my fellow drunken brawlers pointed out that perhaps the fella drew some sort of sick sexual pleasure outta bein' punched. I asked the fella if this were this case and he replied that it were. I was disgusted and threw him in a ravine.
Paranoia accompanied my every punch thereafter. Was this or that mouthy young buck getting his rocks off to my knuckles applied with velocity to his mid-face? Took all the fun out of it. And punching being my favorite leisure activity (helps me blow off steam from the high-pressure world of boozin' and cheating at poker) I had to do something. And you can't keep throwin' people in ravines. They got these laws.
Some people got no respect for themselves. You punch 'em and it just confirms what they already think about themselves. Punitive value lost. Or they're like the fella what ended up in the ravine: Enjoyin' it with a capital E, for Erection. So now if a fella talks shit, I punch him in his girl's face.
It's a similar tactic to the one I heard the Comanches use. A prisoner tries to make a break, they just axe the two guys next to him. I apply my axe (fist) to whatever floozy is draped on the fella's shoulder. Even if behind closed doors the fella hits her himself, there's a certain territoriality encroached upon by me doin' the hittin'. Whether he loves her or hates her, it pains him.
If the fella is companionless, you ask him kindly to write his address on a steno pad you have at the ready with a pen you also provide. He doesn't comply, you remind him you were the one threw that pervert in the ravine. He should get to scribblin'. Address attained, you bid him farewell, go to the address, and punch the face that greets you at the door. Grandmother, landlord, drug addict girlfriend, all create a world of problems for the fella what crossed you.
Although relatin' this now, a thought crosses my mind that didn't previously because said mind was soaked in Primeval Days whiskey: there are very likely fellas what Enjoy the sight of their drug addict girlfriend, or their grandmother, or heck, even their landlord with a black eye (especially if the landlord is anything like mine.) They might even Enjoy watchin' me deliver it.
Shit. It's gettin' so you can't have fun anymore.

Posted by DC at November 9, 2005 11:47 AM