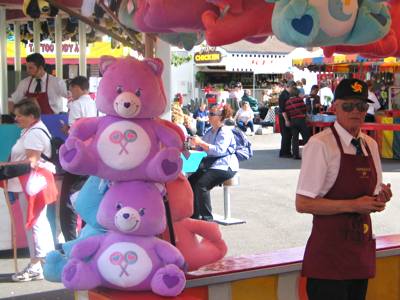 Nat'l Novel Writing Month Short Story Challenge, Day Seven
Today's suggestion: "Buy a ticket and take the ride"
from Josh Sturgis
Oh, so I made out with a carny, Celia, get over it.
Oh so like youíve never made out with anybody you regret. What about Todd Geisler?
NO, Todd Geisler wasnít forty.
NO, Todd Geisler didnít have tattoos and facial hair, but I donít see what the point ofó
What?
YES, the carny had tattoos and facial hair.
YES, the carny was forty. How did you know?
So? So? Lots of hot guys have tattoos and facial hair, and weíre always talking about how older guys are cooler and so much more experiencedó
Of course I brought that up. He said that the age of consent in Wyoming, where the fairís from, is 16 and the laws of Wyoming apply on the fairgrounds, itís like an embassyó
That doesnít necessarily mean he was LYING, Celia, maybe heís just ignorant about laws and stuff, I mean heís a carny for chrissake. Look, either way, it doesnít matter, all we did was kiss.
YES I swear. Just kissing. Jesus, Iím not YOU.
Wait, wait, Celia donít hang up donít hang up donít hang up! I really need to talk to you. Look: I think I might be in love.
Yes, with the carny, who else?
STOP LAUGHING! Celia, Iím serious. He was really sweet and sensitive! He even likes opera!
Well, we could hear the music from the carousel and it was playing a song from ďThe Barber of SeveilleĒ and I said that it was and he said ďwhatís thatĒ and I was like ďitís this opera, Iím really into operaĒ and he was like ďme too.Ē
He could still be into opera even if heís never heard of ďThe Barber Of Seville!Ē Iím into rock music and Iíve never heard of any of the bands my brother likes.
No, I didnít ask him to name another opera that he liked, I just believed him! Unlike you, I donít turn everything into a federal investigation. You know, you accusing Kyle of cheating on you is probably why he broke up with you.
Yes I KNOW he was actually cheating on you! But you canít deny that if you hadnít brought it up, you guys would probably still be together.
No I donít think ignorance is bliss. I guess Iím just old-fashioned because I believe that love can be found anywhere!
It WASNíT underneath the Tilt-O-Whirl! It was in the alley between the House of Horrors and the fried Snickers stand while he was on a cigarette break.
Oh you smoke in the parking lot at lunch, you hypocrite.
Wait, wait, Celia, donít hang up donít hang up donít hang up! Do you think itís a bad idea to move with him to Wyoming?
STOP SCREAMING! If your mother hears you sheíll call my mother and itíll be this whole big thing.
He didnít just come out and ask me to move with him, but he said I should come back on Friday and he also said the fair leaves on Friday, so what else could that mean besidesó
No, theyíre not going back to Wyoming. He said theyíre going to Jersey next.
No of COURSE I donít want to end up raped and murdered on the side of the Jersey Turnpike, what kind of question is that?
I know youíre just worried about my safety. But he worries about peopleís safety too. Itís his job. He makes sure their safety bars are properly locked before he pulls the switch on the Balsa Roller. He says all kinds of things fall out of peopleís pockets and he keeps them: he showed me this knife he foundó
No not in a creepy way!
Well thereís at least ONE other way to show somebody a knife besides in a creepy way, Ďcause thatís the way he did it!
No, he didnít threaten me. I told you, he was really sweet. He was a good listener, he was really quietó
Quiet DOESNíT mean retarded! Just because your retarded brotherís quiet doesnít meanó
Wait, Celia! Celia donít hang up donít hang up, okay? Iím sorry! Look: I need to borrow two hundred dollars. Iíd get it myself but mom took away my ATM card after I used her car without asking last week andó
What?
The carnival doesnít have health insurance. He said he needs medication to get rid of his dreams of spiders.
Oh, okay, so I suppose you and your mom are the only people that get to have any pills in this world?
The only way heís going to kill me is if he doesnít get the proper medication and whoís fault is that going to be, CELIA?
Of course heís not really going to kill me, I was just kidding, jeez. He wouldnít hurt a fly.
YES I read ďOf Mice & Men,Ē I had sophomore English. What are you trying to say? Are you trying to make some unfair stereotype about people from Wyoming?
Well Iím not a rabbit so you donít have anything to worry about.
Posted by DC at November 8, 2005 12:33 AM