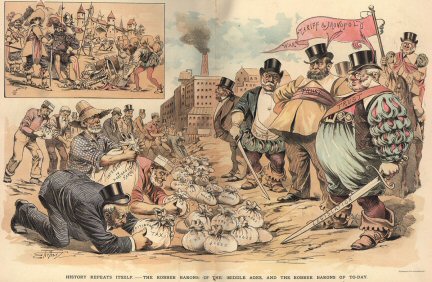 November National Novel Writing Month short story challenge, Day Two
Today's suggestion: Folderol, from Jim Treacher.

The Annual Tycoon Retreat was this weekend. Hard to believe a year had past since last we gathered off the coast of Maine for a week of surf, sun, and discussing how delightful it would be if we could own the surf and the sun! But then again, time flies when you're crushing the proletariat beneath your gilded boot-heel. Here are some highlights:


A ferry received all of our cars on the mainland Friday afternoon, and our arrival at the house was the usual cavalcade of automotive decadance. Garnering most of the applause from white-gloved hands and hearty "here-heres" was Livingston Greencard's Rolls, which most of us thought to be rather over-sized when it first pulled up, only to have our incredulousness turn to glee when its hood opened and out drove a regulation-size Rolls Royce, only to have our glee turn to euphoria when the regulation Rolls came to a stop and an even smaller Rolls drove out of its grille, only to have our euphoria turn to orgasmic I-don't-know-what-all when a Rolls the size of a terrier emerged from its already comically tiny forbearer, this one so small we were sure there was no way Greencard could emerge from it. And indeed he couldn't: he was already upstairs, having arrived Thursday on a golden schooner.


Friday night was a dinner in honor of J. Phillip Grotwig, whose oil concern has, as you well know if you've been reading the papers, been the subject of some trust-busting folderol as of late. Cigars, brandy, and longwinded paeans on the joys of a good solid monopoly were in abundance, but the dark cloud just wouldn't seem to lift from the old boy. His houses and automobiles have been seized, and without the favored implements of tycoonery, Grotwig seems to have turned inward, to the tycoon accessory no Donny Do-gooder can repossess: the moustache. He proudly showed it to me when I cornered him to offer my sympathies: he has been curling it with such intensity it has taken on the qualities of a fractal, curling inward upon itself in smaller and smaller loops on into infinity, never diminishing entirely. I joked that it might be a good place to hide secret documents. He winked and said he was one step ahead of me. As I walked away he gave me the expression which is only worn by a tycoon who is thinking it might be more conveninient to have a man killed than risk him spilling what he knows.


After coffee and a lecture from one Prof. Retton called "What Your Choice Of Top-Hat Says About Your Propensity To Negotiate With Labor Agitators," we all spilled out on to the lawn for a rousing game of Midnight Croquet. It was, as always, the Steam Engines versus the Interchangable Parts; I am lucky enough to be a member of the Parts, and we were to be battling for our fifth win in as many years. Each tycoon has his manservant follow him around with a torch, though in recent years the torches have begun to be replaced by electric lamps. This is the subtle status play at work in the otherwise lighthearted game of Midnight Croquet: which tycoon's manservants, or more importantly, which tycoons, are too superstitious and scared to use an electric lamp and insist on the old out-dated torch. This, the more forward-thinking tycoons and tycoon-watchers agree, is the gauge of which barons shall succeed and which shall fail in this increasingly horseless world of ours. I mused that the ocean crashing below us might have been confused for the ceaseless grinding of Lady Progress' gears, and while I did so Grotwig took a bum swing and sent a croquet ball sailing towards my head. My manservant Parsley, ever quick on the draw, intercepted the ball with our electric lamp, which shattered, naturally, forcing us to withdraw from the game. Even without my deft wicket-negotiation, the Interchangable Parts took the crown of Midnight Croquet champs for a fifth glorious year.


Railroad baron Thomas P. Stillwell III was, as always, the host of the weekend. Each guest room in his house is named after a Chinese worker who died while constructing his transcontinental line; there are 220 guest rooms in all. And, even in the face of this somber memorial, agitators say we have no sympathy for our noble employees! I was staying in "Unidentified Chinamen #27," which has a lovely view of the bay.


Saturday morning brought the cherished pheasant hunt. Full of coffee and croissants prepared specially by their originator, Louis Croissant (resident chef at Stillwell's house this year), we set out upon the green. The technological advancements that have affected Midnight Croquet have also taken root in the pheasant hunt, with perhaps less pleasant results: R. Terrence Laurentine's decision to use a gilded Gatling gun may have yielded him the highest bird count of the morning by a score or two, but it was roundly considered most ungentile, as well as grotesquely alliterative by the more literary-minded among us. "But then again," I joked after he loosed one of many loud volleys, "we've never been a crowd for complaining about success by any means necessary; save that for the trust-busting pantywaists!" At this time Grotwig was seen to raise his rifle at me, tremble, then down it while mubling "too easy." I attributed it to a foodborne malady in the croissants; their inventor is still perfecting them.


Saturday afternoon's lecture was "Things To Cover In Gold And Put On The Tops Of Canes" (In: hawk's heads, skulls, Out: diamonds, although a diamond concealed forever beneath a veneer of gold does hold a certain pornographic quality in the average mind of the tycoon).


Saturday night's entertainment was the Drunken Moonlight Regatta. While intoxicated boating in the middle of the night seems like a recipe for drowning, in fact, our ample tycoon bellies, so often lampooned by political cartoonists, make excellent flotation devices. In fact, much sport is had at the expense of tycoons who have fallen from their boats and have to be fished out at the end of the race, spending the intervening time bobbing in the chilly water, a bracing tumbler of spirits often resting on their glacier-esque stomachs to keep them company.
Despite my indulgence in all the finest thing the tycoon lifestlye has to offer, I am perpetually slim, so when Grotwig's boat rammed mine, I was less prepared to float than your typical robber-baron. Luckily, I am a strong swimmer, and cleaved to the ample bosom of R. Thom Pendleton, who had thrown himself in the water of his own accord rather than face the dishonor of placing last in the regatta. He did not sink an inch when I hopped on his back, and we passed back and forth a flask of good strong scotch while waiting to be picked up. I told him I thought Grotwig might be trying to kill me. He dismissed this idea as "balderdash." I scolded him for his use of youth slang.


Sunday morning came as no surprise, the Scale Model Railroad Competition, in which all tycoons present scale models of their railroad holdings, was dominated by the railroad titans. Though no tycoon's portfolio would be complete without at least a few thousand miles of track, a tycoon who has chosen to focus on newspapers or armaments can't help but feel a bit at a disadvantage. Well, it's a railroad baron's house, so I guess we must expect some natural favoritism towards railroad barons. The competition was held in Seventy-Two Incinerated Orphans Hall. (Stillwell also owns some textile factories.)


I asked Grotwig outright if he was trying to kill me when he offered me an exploding cigar after the Farewell Dinner on Sunday night. He responded by saying, "Look, it's the Minimum Wage," and pointing to the other side of the hall. I was not distracted and did not turn my head, as the Minimum Wage is a figment of the communist imagination and is not and will never be a real thing. Expecting I would, however, Grotwig pulled a vial from his pocket and attempted to empty it into my drink. I then engaged the embarrased Grotwig on a discussion as to why he wouldn't just have his manservant or perhaps a former Pinkerton detective to do me in, he responded that apparently his manservant is squealing on him to the feds. I could not help but feel a pang of sympathy for this man who had been trying to murder me all of Tycoon's Weekend, for if a man cannot trust his manservant utterly, truly, he is at sea. Then thinking the phrase "at sea" reminded me that Grotwig's machinations has forced me to spend much of the previous evening in the freezing water with Pendleton and his pottymouth, and rage overtook pity. I grabbed one side of Grotwig's fractal moustache and pulled as hard as I could: fully stretched, it proved to be as long as Greencard's second-tiniest Rolls Royce. When I let go, it snapped back like a spring to its original position, but not without giving Grotwig quite the sting.
Satisfied, I excused myself and retired to my chambers, where I am writing to you now. Dinner featured an exploding cigar, someone saying "Look, it's a _____" with intent to distract, and a springy moustache. When I return to the mainland, I think I shall invent the animated cartoon.

Posted by DC at November 3, 2005 02:17 AM