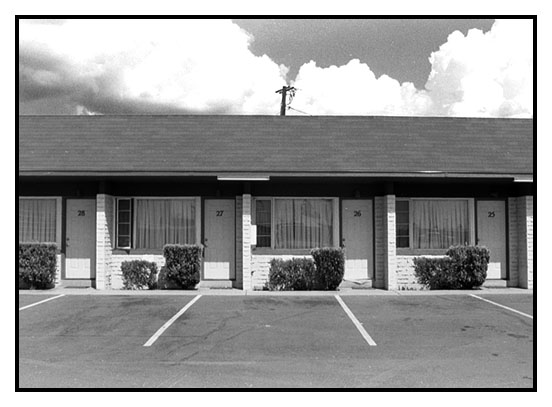 Dear Stephen,

Your mommy's going haywire here on the edge of the world. She misses Connecticut and she misses her baby.
Mommy needs seasons, and there aren't any here in Hollywood. I'm sure the leaves are starting to fall there, but today in Los Angeles it was eighty-one degrees. Daddy left a big sweat-stain on the seat of the rented Studebaker today when we drove out for our second meeting at Paramount. The other night I wore my cable-knit cashmere sweater and Daddy laughed and called me a sentimental fool, then offered to fix me a hot toddy I could drink while we lounged by the hotel pool. Mommy and Daddy have been fighting a lot lately, sometimes the funny kind, sometimes not. They are getting harder and harder to tell apart.
How's Rusty the dog? How's seventh grade? I'll bet it's much easier without Mommy around to make all the other mothers whisper about how your Mommy must be a gold-digger for being married to a man so much older than she is. Who went with you, Grandma or Grandpa? If it was Grandma I'll bet they took one look at her and said, Ha, look at those wrinkles, Stephen's mother finally got what she deserved! Those mothers never realized how wrong they were: one, Mommy and Daddy are the same age (well, two years apart) and two, Daddy doesn't have any money. Ha! But you never can tell anyone anything. Even if you're honest they don't want to listen.
Speaking of honesty, I think you're old enough now to know something very important about Mommy, and maybe it will help you so angry about Mommy and Daddy going away: When I was still a baby in your grandmother's tummy, your grandfather fed your grandmother all kinds of special formulas he'd mixed up. If you go down to the basement right now and pull the chain on the lightbulb at the bottom of the stairs, under the stairs and behind a cabinet you can see all the test tubes and beakers and equipment your grandpa used to cook up these special formulas. But don't touch anything or taste anything or go down there when your Grandpa is down there working. This is very important.
Anyway, every week until I moved out of the house you're staying in now,
your Grandpa fed me what he said were vitamins. I moved out when I was twenty-two to go to junior college in Boston, and when I did, I stopped growing. Your mommy simply stopped getting physically older at twenty-two. No doctor could ever tell me why this was so and I myself didn't know until your Grandpa told me five years ago on my fortieth birthday. Tonight at dinner, look at the scar above Grandpa's right eye. Mommy gave this to Grandpa with a letter opener when he told her what he'd done when she was a baby. Then your Grandpa said, "How sharper than a serpent's tooth it is to have a thankless child!" which is a line from Shakespeare play King Lear, the same play Mommy did a monologue from last week when she went to audition at RKO last week.




I'm writing a little later, it was eight o'clock at night when Mommy started writing and it's now eleven thirty. When I was writing at the desk in our room, Daddy came in with another bucket of ice from the ice machine down the hall. He poured himself some of the whiskey he got at the liquor store down the street with the big neon sign like a cactus, and asked me if I would like one. I said he knew I didn't. Then he accused Mommy of writing a letter to a secret lover, younger than him. This is what I mean about it being hard to tell teasing-fighting and real-fighting apart. Daddy is afraid Mommy is waiting for him to die so she can find someone younger. I keep telling him it's not true. You're my young suitor, you're my little prince. However, tonight, as he got drank more and became more cruel Mommy told him if he really thought that's what she wanted he should keep it up with the whiskey. The fight lasted until fifteen minutes ago. Daddy is asleep inside and I'm outside, on the porch that wraps around the hotel parking lot.

Every man in Mommy's life who knows her secret thinks Mommy must think it's great. Now you know, too, and you must know: she doesn't. But when Mommy found out, Daddy was reading a book called "Making Lemons Into Lemonade The Dr. Fitzburgess Way" (Dr. Trocadero Fitzburgess was the author of the book, which is all about making the best of bad situations and playing to your strengths) because he had just gotten fired from the firm. "If youth is what we have," he said, "we have to go where youth is a commodity." And he wants to bring you out here just as soon as Mommy lands something stable. He has always liked my looks and I think now he likes the idea of being married to a movie star. When you look young and inexperienced people treat you like you are young and inexperienced. Anyway, please don't think less of Daddy or Mommy. We're out here because we want to provide for your future. And Daddy was in a very bad mood today because our meetings haven't been going well. But don't worry!
I know this seems like a lot to digest, but Mommy has decided to be strictly honest from now on, since there has been so little honesty in the family up until this point. I guess you can think of Mommy telling you these things as the special pills she's feeding you, but instead of making you never grow up, they'll make you grow up quicker! And if I remember what it was like to be twelve, you just can't wait to grow up, right?
Last week at 20th Century Fox, after the screen test, Daddy, who pretends to be Mommy's agent instead of her husband, took the production man aside and told him our secret. Daddy told him that any studio would kill to have on contract an actress who never gets old. The man laughed and told him he'd believe it when we came back in five years. This is what I mean when I say no one will believe anything even when you're honest, which is why I want you to believe me so badly.
Then Daddy showed the man a picture from when we were first married, and the man said it could be any kind of trick photography, he'd get fired if he told the boys upstairs he signed an actress because she was some kind of witch or something. Then Daddy begged the man, which you are never supposed to do. As we were leaving Daddy told me we'd come back with a birth certificate, but when we tried to get back on the lot yesterday the security man wouldn't let us pass.
Today at Paramount, Mommy auditioned for the role in a new beach-party picture. It didn't seem to go very well, and again, Daddy took the man aside and told him about me. The man laughed and told him I was too old. Come back when you find a girl who's eighteen forever, he said.
Too old. Can you believe that?




Anyway, Mommy has burdened you with enough for one night. I've included a hundred dollars that was supposed to go for some acting lessons, because I want you eating outside of Grandma and Grandpa's house as much as possible. You can go to a diner and eat all the hamburgers you want. Order two desserts, even. Just try your best not to eat anything Grandma and Grandpa feed you. Slip it under the table to Rusty. Please. Have them call me and let me deal with it.
Also, please do not tell them Mommy told you any of this. However, if you should happen to overhear Grandpa telling Grandma whether Mommy will die someday or just keep being twenty-two forever, please include this information in your next letter. Speaking of which, I hope that letter comes very very soon! Mommy loves and misses you with all her heart. She would not even need seasons if you were here.



XOXOXOXOXO!
Your adoring mother
Posted by DC at August 3, 2005 01:54 AM